Bessie Joyce, Executive Director
Bessie came to the Council in 2014 to coordinate the expanding Youth Education Program.  She has a background in watershed outreach and assessment from her 10+ years of working on the south coast of Oregon with the Coos Watershed Association and others.  During that time she discovered her passion for working with communities to better understand watershed function and our role in watershed processes. She also has a passion for outdoor education; introducing upcoming generations to the wonder and opportunities that watersheds offer for science inquiry, civic engagement and stewardship action.  She holds a B.A. from the University of Oregon in Environmental Studies. In her spare time she enjoys exploring public lands with her son and learning about native plants.
E-mail Bessie at bjoyce@calapooia.org
---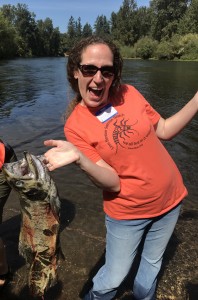 Kristen Daly, Youth Education Coordinator
Kristen joined the Council in 2016 to grow the Youth Watershed Education program. She holds a Bachelor's degree in Marine Biology from the University of North Carolina – Wilmington and a Professional Science Master's degree in Environmental Science from Oregon State University. She fell in love with the Willamette Valley while attending OSU and is committed to serving the people of Oregon by providing students with meaningful and fun outdoor education opportunities. When not working, Kristen enjoys travelling, hiking, watching sports and spending time with her boyfriend and young daughter.
E-mail Kristen at kdaly@calapooia.org
---
Savannah Baber, Youth Education Coordinator
Savannah joined the Watershed Council in the summer of 2016. A native Oregonian, she holds a Bachelor's degree in Fisheries and Wildlife Science from Oregon State University where she specialized in education. Her journey with Calapooia Watershed Council began in the spring of 2016 when she interned for the Council during the Spring Field Days. In her spare time, Savannah enjoys camping, fishing, and exploring the PNW with her boyfriend and black lab named Bear.
E-mail Savannah at sbaber@calapooia.org
---
Donele Pettit-Mieding, Operations Coordinator 
Donele joined the Calapooia Watershed Council team following seven years working as a marketing manager at the Milwaukee Art Museum in her hometown of Milwaukee, Wisconsin. Donele earned degrees in Environmental Studies and English Literature from the University of Oregon and is thrilled to be back in the Willamette Valley with her husband and their small dog, Blaze. She and her husband are renovating their new home in South Corvallis this winter and look forward to many hiking and camping trips exploring the Pacific Northwest in the spring. Donele is an avid reader, an amateur interior designer and a dedicated gardener who spends her days off painting, spackling and planting. She couldn't be happier to be part of an organization that is executing the environmental restoration and community outreach projects that first drew her to the programs at U of O years ago.
E-mail Donele at operations@calapooia.org
---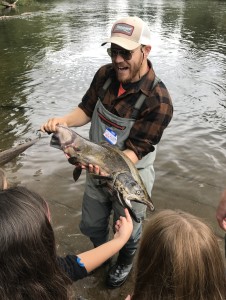 Collin McCandless, Restoration Program Manager
Collin is a native Oregonian from Nehalem. He has held multiple seasonal, intern, and temporary positions with the Oregon Department of Fish and Wildlife in the Willamette Valley. Collin holds a degree in Music from the University of Oregon, and a post baccalaureate degree in Fisheries and Wildlife Sciences from Oregon State University.  He has a love for the outdoors and is excited to be part of a team working together for watershed health.  In his free time he enjoys home brewing, disc golf, fly fishing, and camping with his wife, Jessica.
E-mail Collin at cmccandless@calapooia.org