2016 Annual Report
The Calapooia Watershed Council has seen a year of changes! We're have almost an entirely new staff, and have accomplished a huge amount of projects and education programming in the last year.  We installed 16 wood placement projects, put 75,000 plants in the ground, and taught over 700 students on multiple occasions.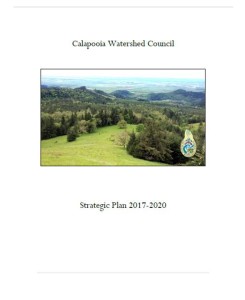 Calapooia Watershed Council Strategic Plan 2017-2020
The development of this Strategic Plan comes at an opportune time in the evolution of the Calapooia Watershed Council.  Since its inception the Council has grown rapidly, achieving many restoration successes.   In recent years our Youth Education Program has grown immensely and is now making refinements to better engage teachers, add depth and provide meaningful program continuity throughout the school year.
The Council has experienced multiple transitions in program implementation, partnerships and staff.    Our restoration program has expanded its reach to include main stem Willamette floodplain projects including gravel pit restoration and projects in and near urban areas. Council staff has seen a complete turnover in 2016, and new partnerships have grown.  Regional collaborations are growing in the Willamette Valley through programs such as the Willamette River Initiative and Model Watersheds Program, Willamette Mainstem Anchor Habitat Working Group, and the Upper Willamette Working Group as these partnerships are looking to strategically leverage financial vitality. Additionally, our partnership with the City of Albany continues to deepen for education and restoration purposes, and partnerships with other cities in our service area show promise for development.  We will continue to develop our communications and fundraising strategy, and will begin exploring new and innovative ways to connect with and serve a broader and more diverse community of stakeholders.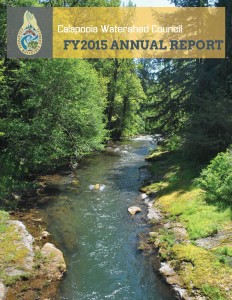 2015 Annual Report
The Youth Watershed Education and Community Engagement programs are in full throttle in FY2015 introducing watershed restoration to new audiences across the mid-Valley in partnership with other organizations and watershed councils. Our new signature event, Willamette River Relay, is engaging hundreds of athletes, their families, and new corporate friends. High school students in South Albany and Central Linn are forming youth watershed council clubs and planning sophisticated restoration projects for FY2016. SalmonWatch is engaging and captivating several hundred students who are learning about the fish?s life-cycle, water quality, riparian
zones, and stream bugs.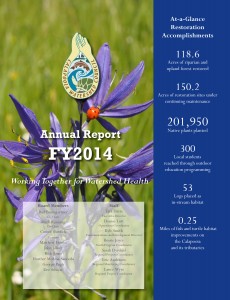 2014 Annual Report
Another exciting year in the books for Calapooia Watershed Council.  In 2014, we made significant advancements with our youth watershed education program and continued our restoration successes on the Calapooia and its tributaries.  We also held our inaugural Willamette River Relay in August 2014 and continued our partnerships with the City of Albany, The Nature Conservancy, Albany Public Schools, and maybe more invaluable organizations throughout the mid-Willamette Valley.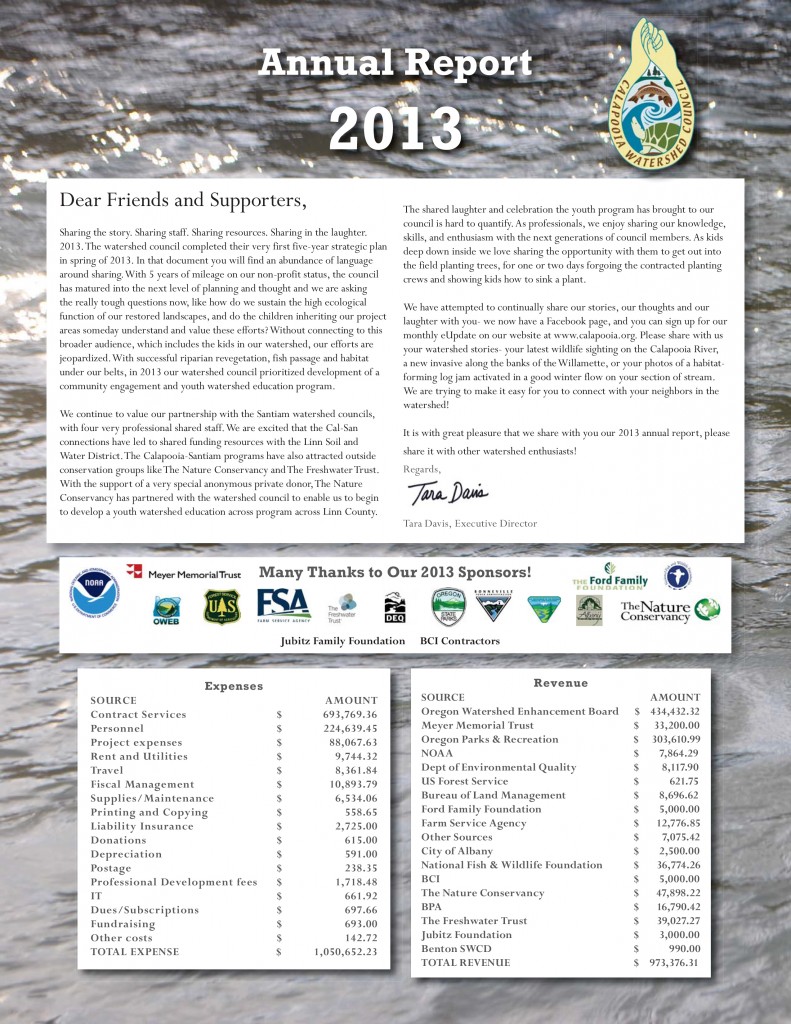 2013 Annual Report
With 5 years of mileage on our non-profit status, the council has matured into the next level of planning and thought and we are asking the really tough questions now, like how do we sustain the high ecological function of our restored landscapes, and do the children inheriting our project areas someday understand and value these efforts? Without connecting to this broader audience, which includes the kids in our watershed, our efforts are jeopardized. With successful riparian revegetation, fish passage and habitat under our belts, in 2013 our watershed council prioritized development of a community engagement and youth watershed education program.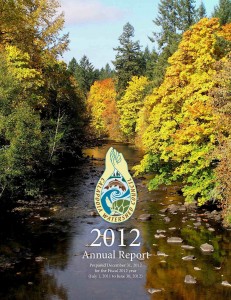 2012 Annual Report
The Calapooia Watershed Council (CWC) continued to grow in a positive direction in fiscal year 2012. New advancements include development of youth watershed education programming, increased staff capacity, and continued private and public landowner partnerships to enhance riparian, upland, and instream habitats and perform maintenance on existing projects like Sodom Channel.
Financial Documents
CWC FY 2016- 990 Public Document
CWC FY 2016 Financial Statements