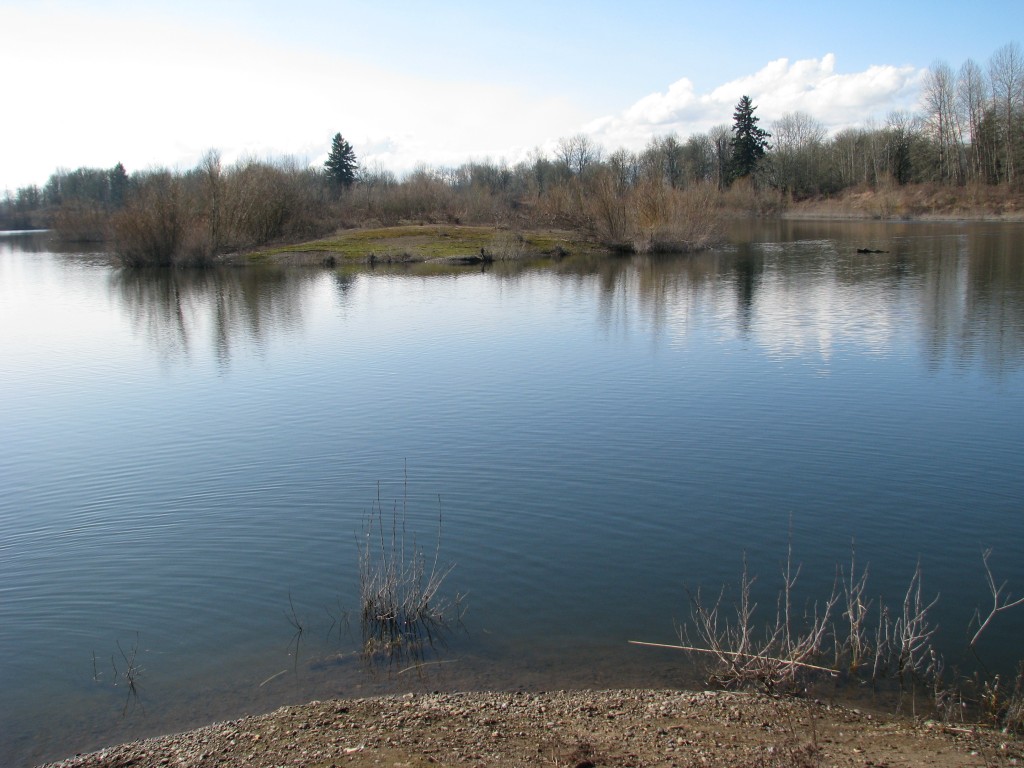 Oregon Parks and Recreation Department (OPRD), in partnership with the Calapooia Watershed Council, (CWC) has begun investigating the restoration potential of OPRD's Bowers Rock Greenway. Investment has been made in data collection to better understand hydrologic and hydraulic processes in and around Bowers Rock Greenway. These analyses characterize habitat forming processes at both the reach and local levels and help inform the preliminary restoration concepts. All concepts are centered around increasing Willamette mainstem complexity by restoring function to side channels, alcoves, floodplains and wetlands on State Park property.  Additional enhancement opportunities include invasive plant removal and riparian plantings to augment and restore native plant community structure and function.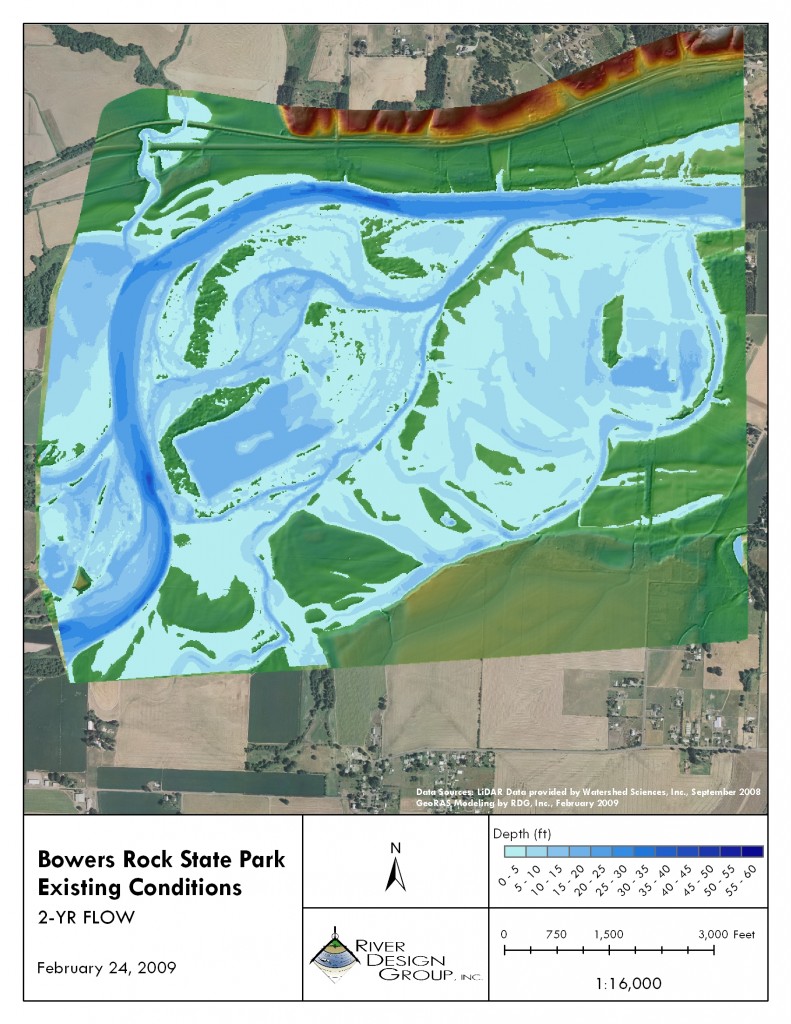 Bowers Rock Greenway is located on the upper reach of the mainstem Willamette River near its confluence with the Calapooia River, west of Albany.  The Willamette Atlas depicts this section of the river experiencing loss of channel complexity and floodplain function as measured by reduced channel length and simplified channel type (i.e. alcoves, side channels, islands). From 1850 to 1995, 70-80% of the islands and alcoves have been lost in this reach. In addition, flood control reservoirs and channel modifications (i.e. revetments, dredging) have limited the river's habitat forming processes. Cumulatively these impacts affect off-channel habitat function for migrating juvenile salmonids, especially smaller size classes (60-200mm) who preferentially seek out these quieter areas for forage and refuge.
At Bowers Rock Greenway, the natural hydrology has been compromised by the development, then abandonment of a gravel pit along the southwest corner of the park. Human-made barriers and embankments have disconnected side channels, sloughs and alcoves, resulting in compromised flow to the park's floodplains. Native riparian plant communities have also been impacted by introduced species colonization. In particular, pasture grasses, reed canary grass, and aquatic weeds such as water primrose have shifted historic food web productivity for prey resources important to juvenile salmonids (i.e. invertebrates). The Council is working with a regional expert in managing water primrose.
Major activities of the Council for this project include:
Implementation of a stakeholder outreach strategy. Host multiple stakeholder meetings for agency and university staff, neighboring landowners, and other representatives from local stakeholder organizations including but not limited to Greenbelt Land Trust, The Nature Conservancy and Benton SWCD.
Purposes for this strategy include:
1. Provide stakeholders with background information on river processes and purpose of restoration at Bowers Rock to build community understanding of the rationale for moving forward with restoration actions.
2. Build understanding of adjacent landowners' goals and objectives for managing their property.
3. Opportunity for landowners to ask questions of OPRD on future management of Bowers Rock.
4. Present restoration alternatives and solicit feedback to determine preferred alternative for projects on OPRD property that impact private landowners.
5. Continue developing landowner relationships to build support for investigating potential restoration actions on private property adjacent to Bowers Rock.
There are partial fish passage barrier project locations on OPRD property. The projects on OPRD property were identified through analysis of LiDAR and field verification of fish passage conditions. 
Stakeholder Meeting- 10/9/13
Bowers Rock PowerPoint Presentation
River Design Group PowerPoint Presentation October 9 2013
Stakeholder Meeting- 1/16/14
Meeting Summary January 16 2014
River Design Group Presentation January 16 2014
Carex Group Willamette Cooperative Presentation- Bowers Rock Habitat
Stakeholder Meeting- 5/7/14
Stakeholder PowerPoint Presentation
Stakeholder Meeting- 6/26/14
Stakeholder Presentation June 26 2014
Landowner Meeting- 6/15/17
Bowers Rock Stewardship Planning 2017 Overview sheet
Other Technical Documents
East Slough Revegetation Proposal
Bowers Rock Alternatives Analysis by River Design Group