Why Youth Watershed Education?
The Council firmly believes that fostering watershed education in tomorrow's leaders is essential in creating a community that values and stewards our natural resources.  We work with teachers and administrators in local schools to conduct youth watershed education programs at the elementary and high school levels.
---
Linn Benton Salmon Watch
Students from Linn and Benton Counties have the opportunity to
participate in fall field trips to a number of select locations where Chinook or Coho salmon can be observed spawning in the wild.  Salmon Watch engages elementary and middle school students in hands-on learning stations covering macroinvertebrates, riparian zones, water quality, and salmon life cycles.  CWC works with Marys River Watershed Council, the Blueback Chapter of Trout Unlimited, ODFW, USFS, Oregon Sea Grant, OWEB, and other partners to deliver SalmonWatch to more than 1900 students in Linn and Benton Counties each year.  This program couldn't happen without significant support from community volunteers. Go HERE to learn more.
To volunteer for Salmon Watch sign up for ONE of the following trainings:
A background check is required for all of our volunteers. To fill yours out, click  HERE!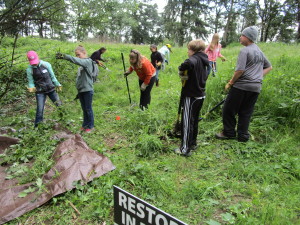 Urban Ecology Field Trips and Outdoor Learning Labs         
Watch a video from the field trips in May, 2017
CWC facilitates field trips to urban,  suburban, and rural conservation sites like Talking Water Gardens, Cox Creek, Pioneer Park in Brownsville, and other places where human uses and ecosystem services coincide.  Students engage in stewardship actions, data collection, and watershed management dynamics exercises at these sites to gain better understanding of how human development effects our natural resources.
Urban Ecology Field Trips (formerly known as Spring Field Days)  are planned field trips hosted by CWC and partners at locations in Albany.  We use StreamWebs resources as much as possible.
Watershed Exploration Tools 
Through equipment purchases made possible by The Nature Conservancy and ODFW's Salmon Trout Advisory Committee (STAC), CWC has acquired an extensive inventory of watershed exploration equipment that we use for our education programming efforts.  We also make this equipment available to area schools interested in conducting their own watershed education curriculum.  CWC has available for loan trout aquariums and chillers, water quality testing kits, macroinvertebrate sampling, riparian sampling kits, salmon life-cycle educational programs, rubber boots, GPS units, microscopes, and other equipment students can use to learn more about the ecology present in their own back yards!  See our inventory of equipment HERE.  Oregon Sea Grant's StreamWebs, a program of Oregon State University, also has stream study kits available for checkout on their website!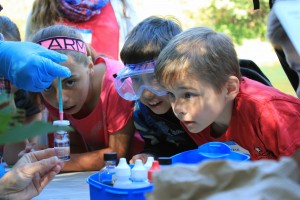 Outdoor School

For the past several years, CWC has coordinated elementary outdoor school, where students are given the opportunity to apply their classroom learning a bit further in field study exercises involving science, arts, recreation and leadership.  Through our experience, CWC has developed resources to help enable schools without outdoor school programs to pursue the resources, curriculum, and support needed to undertake a community-based outdoor school experience.  Check out our new planning guide resources below!
Introduction to Outdoor School Planning with CWC (one page)
Creating a Place-Based Outdoor School Experience with CWC (90 pages)
Youth Watershed Councils
High school students work with the Youth Program Coordinator to design and implement stewardship projects in the Calapooia Watershed Council service area. The students learn about watershed management, community leadership, Watershed Council operations, and work hands-on to restore native habitat. Projects include planting native species, monitoring water quality, and monitoring and managing invasive species. Youth Watershed Councils also coordinate community outreach events including invasive species pulls and clean ups. Leaders are recruited from each school to serve as ambassadors on our Board of Directors.
To show our appreciation for the important work undertaken by Youth Watershed Council students, The Calapooia Watershed Council is proud to offer (2) $1,000 scholarships to seniors who are active participants in the program.
---
Contacts: Youth Program Coordinators, Kristen Daly at kdaly@calapooia.org  and Savannah Baber at sbaber@calapooia.org
Links