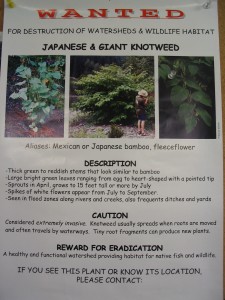 Linn County lacks designated weed control districts or management areas. Thus, the watershed council has taken a lead role in the treatment of early threat invasive weed species along our streams, with a focus on the mainstem Calapooia. System-wide outreach has occurred for invasive weed control with hundreds of landowners providing permission for weed inventory and treatment. To-date, target species have included Japanese knotweed, false brome and English ivy. Noxious weeds costs our local and state governments many millions of dollars every year, not to mention moderate to extreme degradation of property function in our basin that is 95% privately owned. By uniting on this serious threat, the watershed council can continue to provide education, outreach, assessment, and often times necessary treatment.
The watershed council has surveyed and treated the entire mainstem Calapooia for Japanese knotweed annually since 2006. The council and its partners have unfortunately relinquished funding and treatment of false brome unless found to exist at current projects sites because of its widespread infestation in our headwaters and the basins to the south and north of the Calapooia. Every stream restoration project site, whether fish passage, instream habitat or buffers, experiences aggressive noxious weed control as directed by our staff.
Each year, the Council commissions a noxious weed survey of the lower reachs of the Calapooia River.  The results of this year's study are linked below.
Calapooia Watershed Project Report 2012-02-14
Noxious Weed Resources
Itegrated Pest Management Guide for Common Weed Management